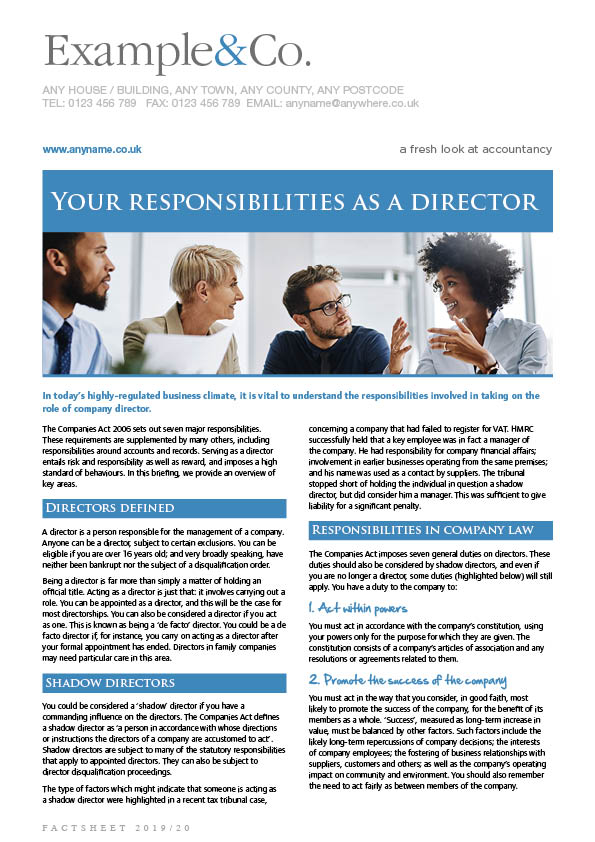 Related products
[ { "caption": "Topical Factsheets", "link": "/products-services/client-communications/client-factsheets/topical-factsheets/", "newWindow": false, "internal": 1298, "edit": false, "isInternal": true, "internalName": "Topical Factsheets", "type": "internal", "title": "Topical Factsheets" } ]
Back to all products
In today's highly-regulated business climate, it is vital for clients to understand the responsibilities involved in the role of company director.
The basic building blocks of the regime are set out in the Companies Act 2006. These requirements are supplemented by numerous others, from responsibilities over the day to day operation of the company, to the keeping of adequate accounting records, and preparation of annual accounts. Transactions between the company and its directors, such as directors' remuneration, are also the subject of precise rules.
Contents of the factsheet include:
who counts as a director?
what are shadow directors?
Companies Act 2006: seven responsibilities
other responsibilities, including accounts and records
transactions between the company and its directors.
Key Information
Perfect for emailing to clients or posting on your website
Printed and PDF versions
Text-only Word format also available
Colours can be changed to match your logo - call us for details
  To view a sample, click here.