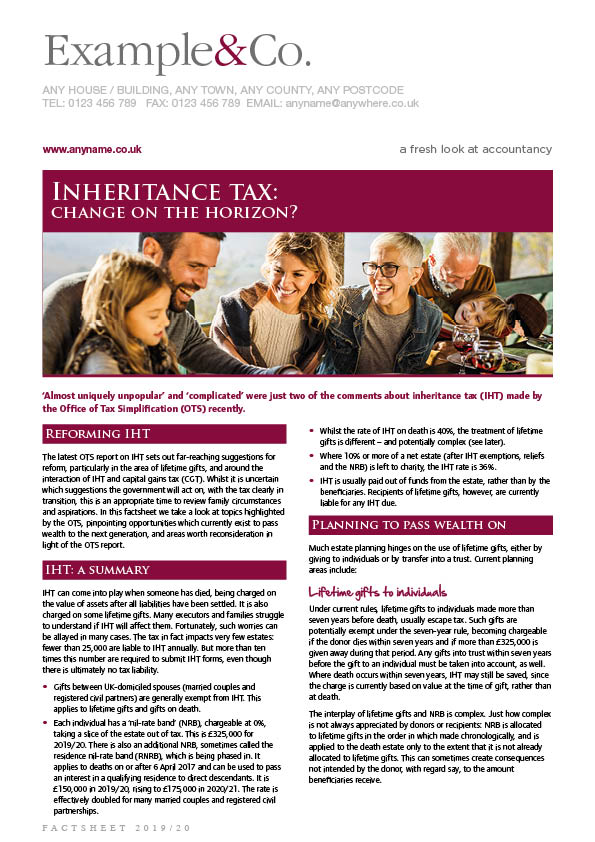 Related products
[ { "caption": "Topical Factsheets", "link": "/products-services/client-communications/client-factsheets/topical-factsheets/", "newWindow": false, "internal": 1298, "edit": false, "isInternal": true, "internalName": "Topical Factsheets", "type": "internal", "title": "Topical Factsheets" } ]
Back to all products
'Inheritance tax: Rules on gifts to loved ones should be simplified'.
Your clients will undoubtedly have seen headlines like this, following the July publication of the Office of Tax Simplification (OTS) report on possible reforms to inheritance tax (IHT). The proposals mean that planning to mitigate IHT may need reconsideration. Recent statistics, showing that nearly a quarter of estates liable for IHT have been the subject of HMRC anti-avoidance activity, do little to allay client fears about the UK's 'most unpopular' tax.
This factsheet concentrates on some of the key areas highlighted in the OTS report, looking at various areas where opportunity currently exists to pass wealth on to the next generation.
Contents include:
lifetime gifts
interaction of IHT and capital gains tax
business property relief and agricultural property relief.
Key Information
Perfect for emailing to clients or posting on your website
Printed and PDF versions
Text-only Word format also available
Colours can be changed to match your logo - call us for details
 To view a sample, click here.